9 Best Day Trips From Barcelona (With Prices and Tips on Transportation) | Miss Tourist
Cable car or Rack railway (Cremallera)?
Do not repeat my mistakes, read this part very carefully and you will save yourself some money!
When you board the Montserrat train on Placa Espanya, there is just one train that goes to Montserrat, so everything should be clear until now.
But in order to get up to the mountain, you need to get off the train at some point and then take either Cable Car, either Rack Railway. Here is the schedule for both of them just in case (but you will probably not need it as the schedule of the cable cars is aligned to the arrival time of the train from Barcelona).
Depending on what you choose, you will need to get off in different stations.
Montserrat Aeri stop for Cable car (first stop of the train)
Monistrol de Montserrat stop for Rack railway (second stop of the train)
Because the companies that provide the service of bringing you up to the monastery are private, they don't really care if you got off one station earlier/later by mistake. If it says in your ticket that you chose Rack Railway, you have to go with the Rack Railway (Monistrol de Montserrat stop, the second stop of Montserrat).
If you made a mistake and you got off at the first station (Montserrat Aeri) with your Rack Railway ticket, you will either need to pay extra for the Cable Car ticket (around 7€ per person one way), either wait for the next train (in 1 hour) from Barcelona to ride one extra stop.
I found this part very frustrating – I and many other travelers got off at the first stop by mistake, but our ticket said we chose Rack Railway. We could not waste one hour waiting for the train, so we had to pay the extra 7€.
So, which one to choose at the end? Having tried both of them, I can say that Rack Railway (Cremallera) is better as it is more comfortable and you can sit down.
IMPORTANT: It is also good to choose Rack Railway because on the way back you will board the train back to Barcelona first (those who chose Cable car option will join the train 1 stop later). Most of them will probably not find an empty place anymore, while you will be able to enjoy your seat for the whole duration of the ride.
NOTE: If you got TOT Montserrat ticket, make sure to visit Museu de Montserrat, it is such a great museum! Keep in mind that it closes at 5.45 PM (and at 6.45 PM on weekends and during summer), so I would suggest arriving at least 45 minutes in advance. The museum features some great works of Dali, Monet, Picasso etc., so there are plenty of great paintings to see! The audio guide is 2,2€ and I recommend taking it.
If you do not want to take a guided tour, make sure to pick up a free booklet in your language, as it has detailed information about all the main objects in Montserrat.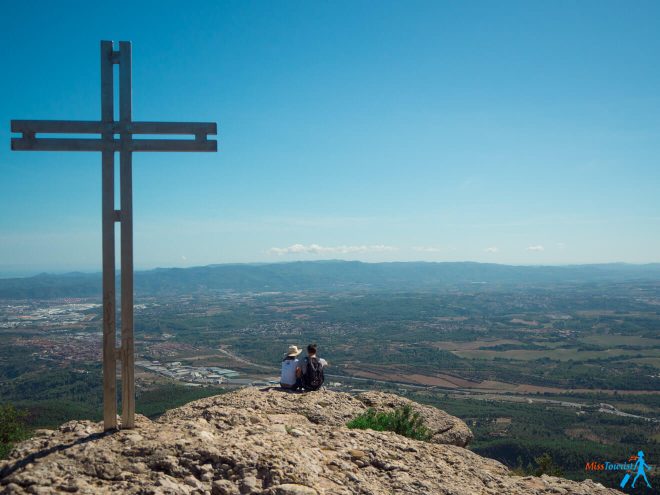 Food in Montserrat – There are restaurants where you can order food or snacks. If you take TOT tickets, all-you-can-eat lunch with a great variety of food will be included with your Montserrat trip. If you do not want to buy TOT Montserrat, you can buy the launch separately – it is 15€ per person.
Transportation inside Montserrat – If you decide to take a Montserrat from Barcelona tour, you should know that there are two funiculars to take from the monastery, one goes up, the other one down. When you take the funicular up, I recommend going back by foot, it is a charming hike of about 50 mins – 1 hour that you will most definitely enjoy!
Hotels in Montserrat – You can stay in Montserrat overnight, there is a hotel called Abbat Cisneros, but it is booked months in advance. Book your stay here! 

 – PRO TIP ON SKIPPING THE LINES IN MONTSERRAT –
If you want to avoid the lines and crowds, how about taking this exclusive early access tour and meeting the sunrise in Montserrat? You will have a live guide and you will have the place pretty much just for yourself. Seeing Montserrat in a tranquil atmosphere must be an incredible experience, I wish I knew about this option before! You will finish the tour just in time before the hordes of tour buses will arrive.
In case you want to see Montserrat mountain from a whole new perspective, then you should take this intimate Montserrat hot air balloon ride that also includes a tour of the Monastery!
If you would prefer to see all the main attractions in Barcelona – Sagrada Familia, Park Guell and Montserrat – in a small group with skip-the-line access, then this tour is the perfect option for you!
Another unique option would be to take this tour of Montserrat in the evening, listen to the choir and spend the night there and then admire the incredible landscape early in the morning! This tour includes the hotel and half board meal as well.
Products You May Like